Our Mission is to Give You Peace of Mind
We are committed to making it easy for everyone to eat safe, high-quality, nutrient-dense convenience foods regardless of their special diet needs. 
All day, every day, we think about creating superior foods for people with food allergies and intolerances, and those who need to be hyper-vigilant about avoiding toxins and chemicals from food dyes to glyphosate.

 

Our delicious foods make your life easier and less complicated because they do not have potentially problematic ingredients like nuts, gluten, processed sugar, soy, and dairy and are minimal processed, and we carefully select the farms we source from by testing their crops for over 400 pesticides, herbicides, allergens and gluten. Ingredients from industries prone to metal and toxin contamination, like protein powder and chocolate, are also test for heavy metals and toxins like lead and arsenic.

We use our pioneering food-safety system to give you direct access to our products' test results through our proprietary blockchain-based T-CODE system.
Our Vision
We believe in a future where all food companies are active promoters and stewards of our health and the health of our planet.  We are happy to lead the way.
Eight years ago, I was juggling a family with Celiac Disease, lactose and gluten intolerance, and pre-diabetes. Then, overnight, our elementary school banned all nuts from campus.
I found there was no food company trying to make nutrient-dense, minimally processed convenience foods that met the needs of people with more than one or two of the most common dietary restrictions. And, there was no company going the extra step in allergen and gluten safety–testing each batch to ensure product purity and providing the test data to consumers–instead of assuming safety based on the conditions at the manufacturing facility. May sound technical but why use a proxy when we can do an actual test?
I had spent my early career improving nutrition for low-income kids and knew about allergen dangers from my own kids' experiences but as I dug into the food testing world, my understanding of what "improving nutrition" and "food safety" meant. I learned we could find out what pesticides, herbicides, and metals are in our food. Companies could have been testing for this for a long time but very few were and none were reporting their results publicly.  The few tests run by non-profit organizations that have been made public show much of our food has levels of toxins and pesticides that I do not feel comfortable feeding my family. I wanted to create a food company that made amazing, clean food and showed consumers the kind of transparency they should ask for from all the companies they love.
Voila! ZEGO. Every delicious product is crafted with nourishing ingredients and tested for allergen and gluten cross contact, controversial chemicals like glyphosate, and over 400 pesticides and herbicides. And, with our T-Code Food Safety System, you can scan any product's QR code to access its purity test results.
At ZEGO, our goal is to give you peace of mind.
~ Colleen and the ZEGO Team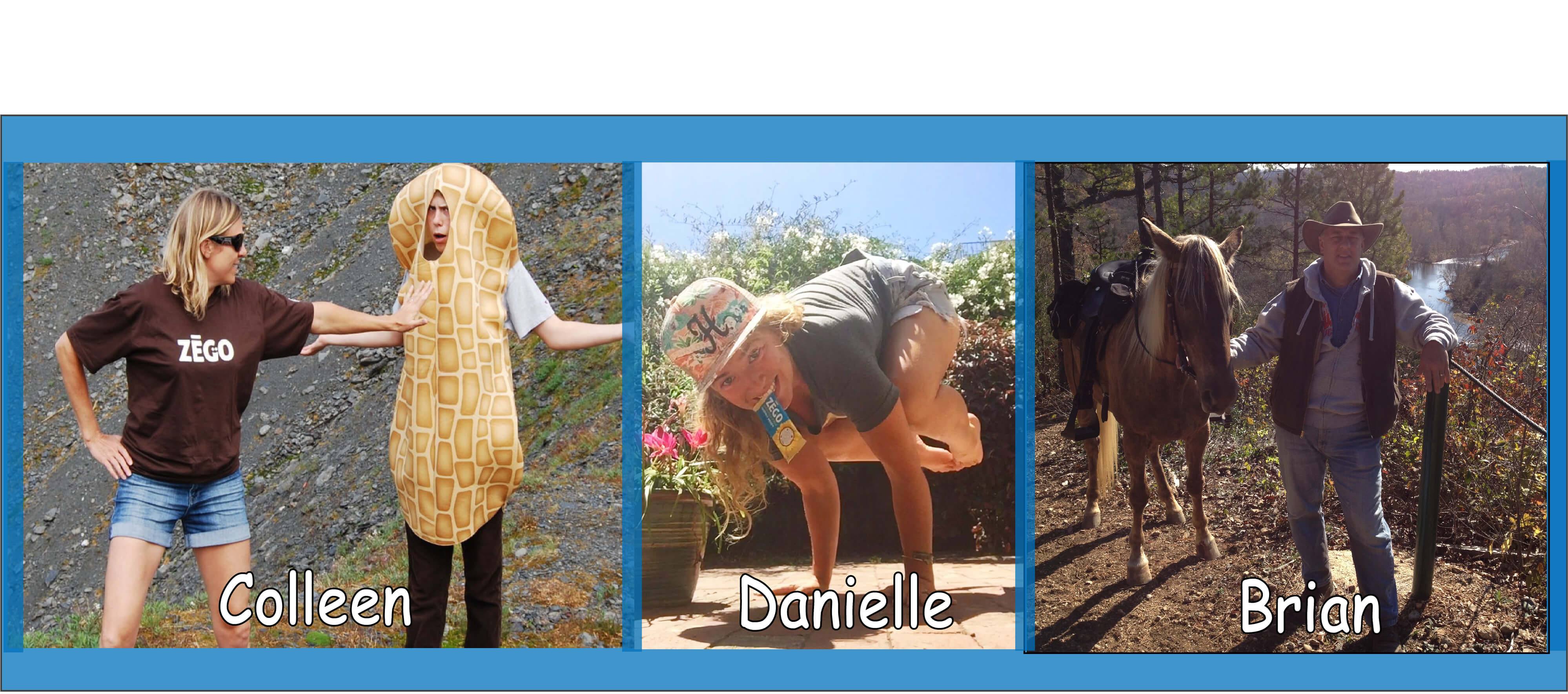 Colleen Kavanagh
Founder and CEO
Favorite Hobby . . . Paddle Boarding
Favorite ZEGO . . . Fudgy Chocolate and Lemon Ginger Seed+Fruit Bars
Danielle Schnake
Customer Happiness and Operations Specialist
Favorite Hobby . . . teaching yoga or running
Favorite ZEGO is . . . Just Fruit Raspberry
Brian Jansen
Chief Operations Officer
Favorite Hobby . . . Riding Horses
Favorite ZEGO . . . Apple Cinnamon Mix-Ins
Recipe Consultants
Mary Barber and Sara Whiteford
Mary Barber and Sara Whiteford
Recipe Consultants  & Authors of 12 Cookbook and their Inspiring Healthy Eating Website!
Favorite Hobby . . . Skiing
Favorite ZEGO . . . Lemon Ginger Seed+Fruit Bar
Our Commitment to Community
We are proud we have met the rigorous standards of social and environmental performance, accountaibility, and transparency to be recognized as a B Corporation! And, in 2018, ZEGO was recognized by B Corp as "Best in the World for Community."
Today, there are over 2,200 Certified B Corp companies around the globe, including Patagonia, Eileen Fisher, and Ben & Jerry's. We are proud to join them in redefining success in business, so that one day every business is a force for good. To learn more about our certification, check out our article.
ZEGO was founded in part to provide long-term funding for A Better Course, a San Francisco Bay Area nonprofit project that works to improve nutrition and food safety for low-income children. We also support the needs of disaster relief teams and victims of natural disasters such as fires and hurricanes. Every time you purchase a ZEGO product, you support this work as well.