Allergy Friendly Winter Drinks to Warm You Up and Wow Your Friends
Cold weather and holidays mean hot drinks! The only problem is, the eggnog and hot chocolate that most people are drinking aren't really allergy friendly. So we decided to use our bar flavors as inspiration to make a twist on the classics and give you some amazing flavors that the whole family can enjoy.
We went back to the test kitchen to create four different drinks: Spiced Hot Apple Cider, Mulled Fruit, Ginger Lemon Tea, and allergy friendly Hot Cocoa (with a fun find to go with it!).
Enjoy!
Spiced Hot Apple Cider
During these chilly, winter months, one of our favorite things to do is curl up with a soft blanket, a good book, and a cup of spiced cider.  We wanted to take the traditional cider up a notch, so we looked to our Seed+Fruit Apple Cinnamon bars to come up with a fun, delicious take on Hot Apple Cider.
If you are entertaining this year, this recipe is perfect, because it is simple, easy, delicious, and it will make your house smell amazing!
Ingredients:
6 cups of Organic Apple Cider
1 Organic Orange (sliced)
1 Organic Apple (sliced)
3 Cinnamon Sticks
2 tsp Cloves
1/2 Tsp Peppercorn
1 inch of Fresh Ginger
1/4 tsp of Chinese Five Spice (optional)
Directions:
Combine above ingredients in a saucepan, and simmer for 20 minutes or until the house is filled with the aroma of spiced cider. Want the no-fuss version? Put it all in a slow cooker on low until it is hot.
ENOY!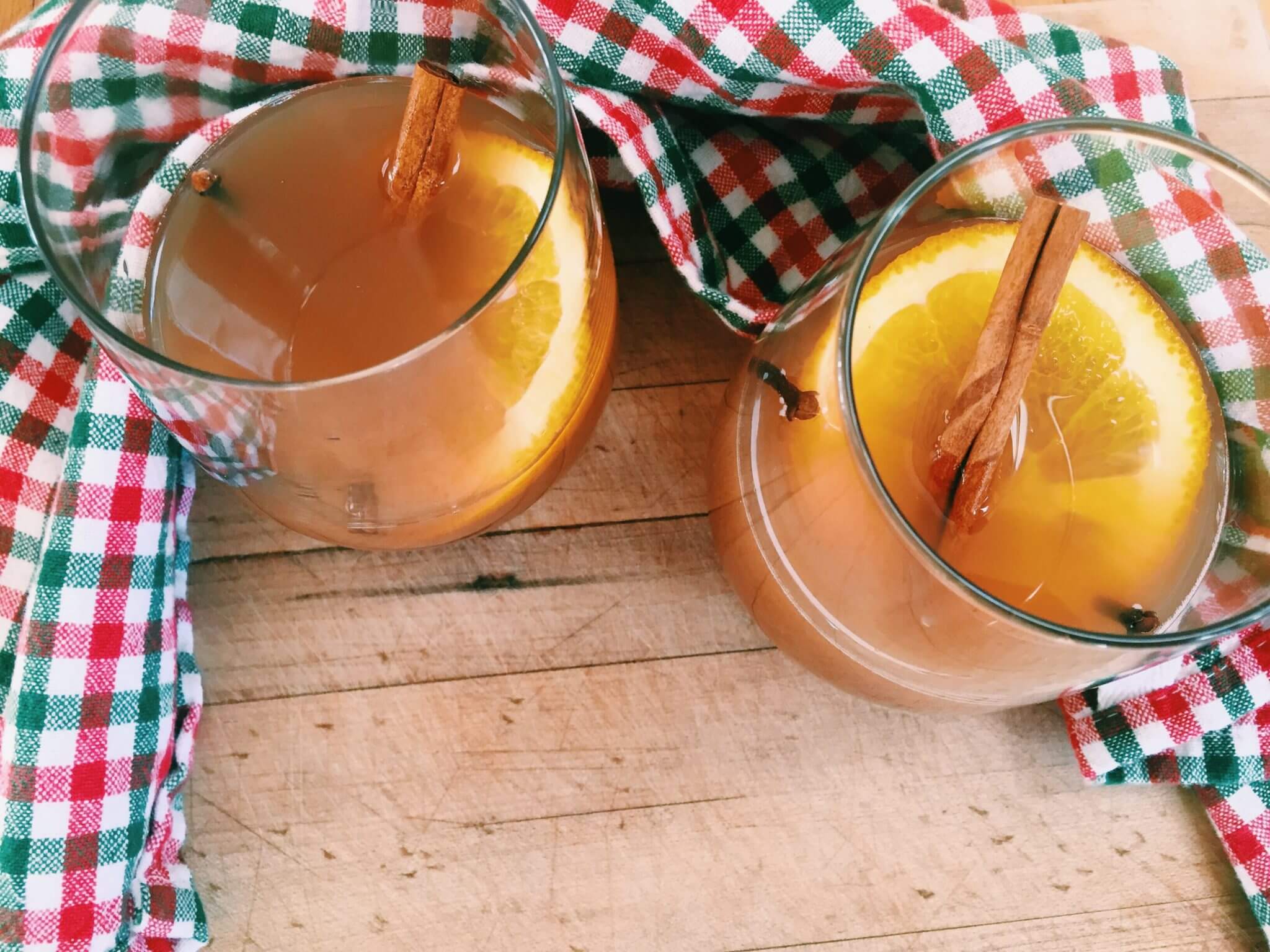 Mulled Fruit (Wine Optional)
Mulled wine is one of those traditional drinks that is starting to be left out. But as we know from our Just Fruit bars, there is nothing quite like the taste of fresh fruit. Blending this drink makes it frothy and delicious, not to mention very pretty to serve! It is easy to create this virgin drink, but if you want to add an adult kick, we included those instructions as well. Another great thing about this drink is that there is enough sweetness from the juice, that you don't have to add any additional sweetener!
Ingredients:
8 cups of Organic Cranberry-Raspberry Juice (100% Juice)
1 lb Strawberries washed and hulled
1 tsp Organic Cloves (or to taste)
Extra Strawberries for garnish
Optional: Replace half the juice for shiraz wine
Directions: 
Blend strawberries, juice, and cloves on high. This will make it nice and frothy. They pour into individual cups and microwave for 60 seconds, or simmer on low in a pot until warm, being careful not to overstir so that it stays frothy. Slice a whole strawberry halfway through the middle to slide over the edge of the cup to decorate.
Dairy Free (Allergy Friendly) Hot Chocolate:
Hot Chocolate is an all-time favorite winter drink of ours, but its nearly impossible to find a true allergy-friendly hot chocolate at a restaurant.  Even if you sub in a milk alternative, chances are the chocolate will contain dairy, so we looked to our Seed+Fruit Fudgy Chocolate bar to make the most delicious and velvety recipe you've ever tried.
This recipe makes enough for the entire season (honestly, it makes a lot!), so just put the finished mixture into a cute jar, and you won't need to make this again all winter.  Next time you're having a craving, just put 2-4 Tbs of the premed mix into a cup with your favorite milk alternative, and you're ready to go!
It also makes a cute gift! We keep some of these around to hand out to house guests, so everyone can leave with a tasty little treat.  Our friends and family love getting this every year!
Ingredients:
2 1/2 Cups of Organic Sugar
1 Cup of Allergy Friendly Chocolate Chips (Pascha is our favorite brand)
2 1/2 Cups of Organic Cocoa Powder
1 Tbs Salt
1/2 Cup of Macha Powder (optional)
1 Cup of your Favorite Milk Alternative when ready to drink
Candy Canes
Directions:
Combine all dry ingredients together and mix well.  Store in an airtight container.
When ready to serve, add 2-4Tbs of the mixture to 1 cup of your favorite milk alternative.  Top with candy canes.
 Do you like marshmallows in your hot chocolate? It can be hard to find ones that are allergy friendly, and even harder to find ones that are vegan and taste good! That is why we were so excited to find these brand – Dandies. They are a peanut and tree nut free facility, gluten free, dairy free, and vegan! And they were the softest, fluffiest, yummiest marshmallows we had ever tasted. It was hard to keep the kids out of them long enough to take this photo. Extra fun? They come in both traditional vanilla flavor, as well as a Peppermint flavor that is colored pink with beets (no artificial colors!) so that you can have mint hot cocoa if you would like as well. They are also Non-GMO certified, so we consider this an all-around win.
Lemon Ginger Spiced Tea
Why have regular hot tea, when you can spice it up? This is a super simple way to take a common drink to the next level and add something that will make it memorable.
Ingredients:
8 Cups Hot Water
4-6 Tea bags or 3 Tablespoons whole leaf tea (green tea works great)
1 Whole lemon, sliced
8 pieces of Crystallized Ginger
Directions: 
Brew the tea as usual, and then put a slice of fresh lemon and a piece of ginger into each cup. The longer you let it sit, the stronger the ginger flavor will be. You may want to add an extra pinch of sugar to taste, depending on how sweet you want this drink to be.