Gluten-Free Cinnamon Oatmeal Cookie Goodness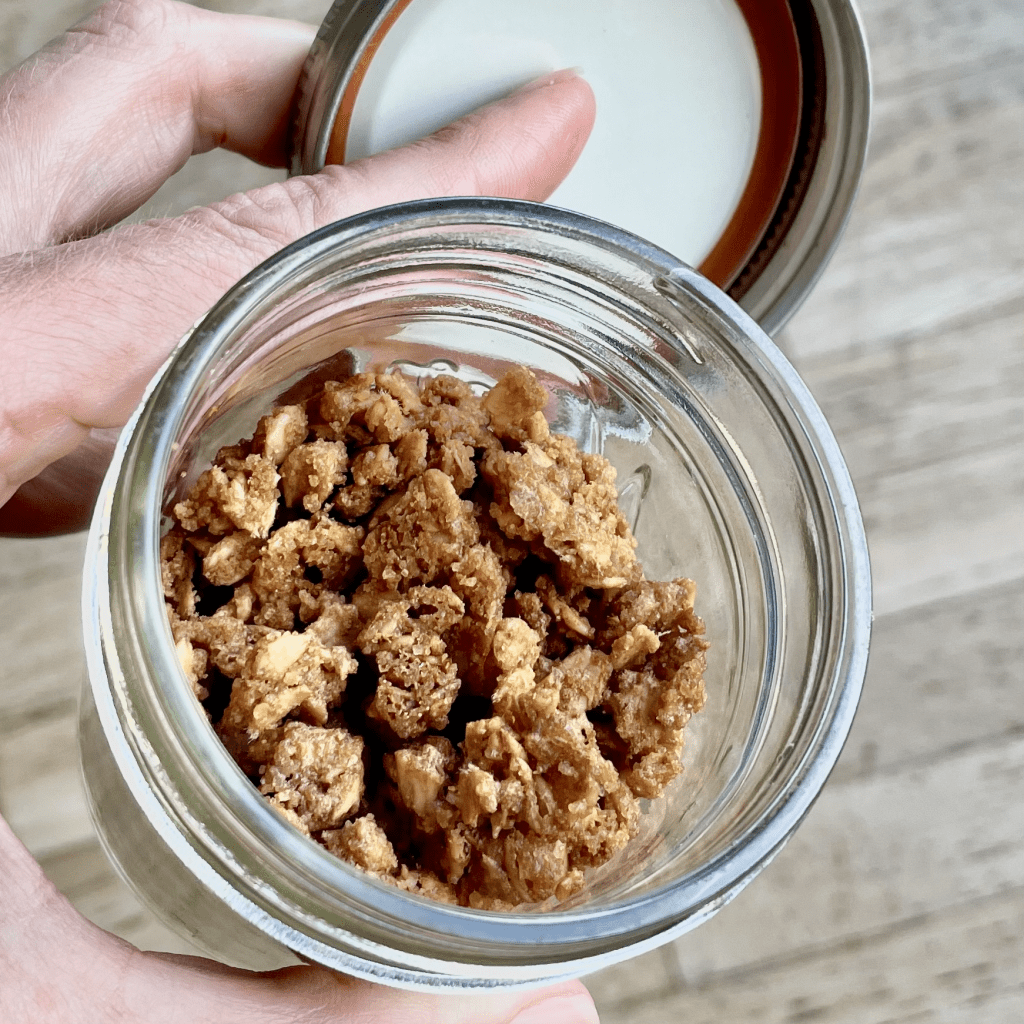 If you like our oatmeal cookie recipe, you're going to LOVE our gluten-free cinnamon oatmeal cookie crumble!
We like to shake them on top of ice cream or even hot or cold cereal. And we admit to eating them out of our hand when we don't want to invest in (or admit to) eating a whole cookie =)
Best of all, they keep in the freezer for 6 months. So you can make a large batch and use them to add great taste and texture to many moments of your life!
Cinnamon Oatmeal Cookie Crumble: How this Recipe is Better
We added cinnamon to this recipe intentionally. You see, we recognize this is a COOKIE. And, we don't shy away from it. After all, how sad would life be without cookies?
But we all know sugar can spike your insulin. So we add cinnamon to help keep your blood sugar from spiking. Cinnamon is incredibly powerful. In fact, have you ever gotten a "sugar headache"? You can actually take a half-teaspoon of cinnamon to get rid of it! Just make sure you don't breathe in through your nose. Try putting the cinnamon on your tongue and then drink it down with water.
Special Diet Features
Our best oatmeal cookies are allergy-friendly and free from wheat/Gluten, dairy, egg, soy, tree nuts (including coconut), peanut, fish, shellfish, the top 8 Allergens, sesame, lupin.
And, though we'd never argue they are diabetic-friendly, they are in the sense of portion control. By having the cookies crumbled, it's easier to have just a tablespoon to satisfy your craving or wake up your afternoon.
Let us know how you like to use them!
---
Best Oatmeal Cookie Crumble with Cinnamon
INGREDIENTS
1.5 cups of ZEGO Double Protein Oats
1 cup of packed dark brown sugar (or regular sugar + 1T molasses)
2 tbsp of rice flour
1 egg (or egg substitute)
1/2 cup of Spectrum Organic Rainforest Certified palm shortening (You can use butter but watch for burn and be sure to flatten them before baking. The palm shortening works better.)
a pinch of salt
2 tsp of vanilla
1 tsp Ground Cinnamon (optional)
Method
Step 1: Preheat oven to 325. line baking sheet with parchment paper
Step 2: Whip palm shortening and sugar together with a mixer until light and fluffy (3-5 min)
Step 3: Add vanilla, egg, salt. whip until fluffy (3 min)
Step 4: Add rice flour and oats. fold in or mix until just blended
Step 5: Scoop in round tablespoons onto a baking sheet and flatten slightly with a fork.
Step 6: Bake for 10-12 minutes until cookies are golden brown
Step 7: Allow to cool. Save some for cookies, of course. For the rest, crumble them with your hands into pieces about the size of a dime (or any size, really). Put them in a Ball jar. Shake them on top of ice cream or even hot or cold cereal. We also like to eat them out of our hand when we want to feel like we aren't eating a whole cookie =)
Keeps on counter for a week. Freeze and use as needed for 6 months.
---
Did you make this recipe?
Be sure to tag @zegofoods on instagram and use the hashtag #PoweredByZEGO