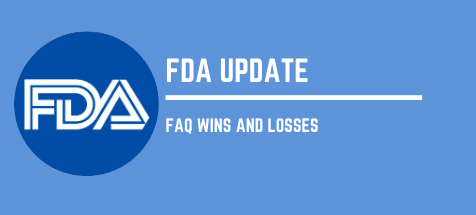 FDA Food Labeling
Wins and Losses
Analysis of the FDA's Latest Communication And What Food Advocates Should Do Next
The FDA issued an official FAQ in response to the concerns raised by the food allergy community over the FDA's May 22 food labeling guidance.
Getting the FDA to respond is fantastic, seriously, and we should all congratulate ourselves. Individuals, nonprofits (like FAACT, FARE, AAFA, Kids with Food Allergies, and Moms Across America), media advocate Allergic Living Magazine, and companies like ZEGO, Natural Grocers, Spokin, and Snack Safely stepped up as well. At least 7 major news outlets covered the issue, including The Washington Post. We voiced our objections, and the FDA responded.
But what did we get in the way of substance from the FDA's new FAQs? Unfortunately, not much. The FAQs are very limited and much of it doesn't hold any legal meaning. Here is a summary of what the FDA does and doesn't say in the FAQs.
Top 8 allergens:
It defines the term "top allergens" used in the May 22 guidance to mean the "top 8 allergens" as recognized in the U.S. (peanuts, tree nuts, soy, milk, egg, wheat, fish, and shellfish) and clarifies these cannot be substituted into products unless the label is also changed.
Top 14 allergens:
It gives examples of other top 9-14 allergens recognized in other countries, which had been referred to vaguely in the previous document, specifically naming sesame, celery, lupin, buckwheat, mollusks, shellfish, and mustard. It says again that companies can substitute in these ingredients into products without changing the ingredient label and without or notifying consumers but it discourages companies from doing so.
The other 150+ allergens:
It chooses NOT to list the other 150+ foods that are known to cause allergic reactions or other health problems. This is a big missed opportunity for safety because few if any companies know what these other foods and ingredients are.
Public notification:
It continues to recommend,

but NOT require

, public notification of ingredient substitutions.

It does not commit the FDA to keep a master list of all food company ingredient changes for consumers to see and does not offer recommendations for best practices for public notification. Though the FAQs recommend brands use websites and point-of-sale marketing to notify consumers, it doesn't offer best practice suggestions. For example, where on a company's website should the notice be and how should they platforms like Amazon, particularly when unaffiliated 3rd party sellers are responsible for the information. As for point-of-sale notification, how can brands provide effective signage on the store shelf when such materials often fall off the shelf, and many stores do not allow them at all?

What Should You Do Next?
Stick together and Enlist Your Favorite Organizations.
Let nonprofit advocacy groups like FARE, FAACT, AAFA, and Kids with Food Allergies know you want them to keep standing up for all people with food allergies, including those outside the top 8 or 14. Consider tweeting — it's a great way to communicate without overwhelming the organizations with emails.
If you are involved with other food transparency groups, like those focused on non-GMO, organic, or glyphosate, ask them to file public comment as well. We have to fight any arbitrary changes to food safety laws that decrease transparency. No one should feel comfortable that something else eroding food supply transparency won't come down the pipeline sooner rather than later. #bettertogether
File a public comment with the FDA, even if you already have.
If 3000 public comments and other advocacy efforts got this set of FAQs, you could reasonably estimate we at least need to repeat that effort to get them to respond again. But 18,000+ food allergy advocates signed the petition circulated objecting to the May 22 guidance. Shouldn't be able to get 18,000+ public comments? (Petitions don't count as public comment.) The FDA would be far more responsive to 18,000 public comments than 3000. Click here to file a public comment.
Email your favorite brands and ask them to file public comments.
If you can do more, email your members of Congress.
Who Will Lead the Way?

These grassroots efforts would benefit greatly from a coordinator. ZEGO is doing our part, as are others, but advocacy coordination is what a 501(c)(3) organizations do best. They educate policymakers on behalf of their members and help their members be effective advocates.
FARE is particularly well-resourced and well-positioned to take on this role. FARE would do a great service to the community if it leads an effort to have companies file public comments opposing the substitution allowance. They could start with their own corporate donor list and continue on to the verified brands on Spokin and Snack Safely. It could also reach out to companies in the B Corp community like Patagonia Provisions and Ben & Jerry's. Increasing the number of public comments, and specifically, those from industry are very important.
Let's keep fighting until we win.
Let's get 18,000 public comments and more allies from industry and nonprofits.
After all, what else were you going to do this summer?
---
Colleen Kavanagh is the founder and CEO of ZEGO. ZEGO is the first purity-transparent food company, making superfood products with traceable transparency designed to be safe for most all people to eat regardless of dietary restrictions like common allergies, intolerances or diabetes. ZEGO makes purity protocol gluten free oats, muesli, protein powder, Mix-ins trail mix and nutrition bars. All products are gluten free, peanut free, tree nut free, dairy free, soy free, sesame free, glyphosate free, lupin free, and sulfite free. ZEGO is certified as a B Corp and as Women Owned (WBENC).