ZEGO is rolling out big changes in August! Read more for all the scoop on our facility, shipping, and product changes . . . all designed to give you peace of mind.
New Allergy Friendly Facility
As of August, we have changed the location where we produce our Bars, Muesli and Mix-Ins (the Double Protein Oats and Pure Protein are made in a different location). The new facility is free of the top 14 allergens.
What is different? There is one other company that uses this facility several times a year that uses baking powder in their recipe. Baking powder can have corn in it. We do not produce on the same day or even week as the other company, and the equipment is thoroughly cleaned each day.
New Fulfillment Warehouse Location
For online orders, your shipments will start shipping from Pennsylvania beginning the week of August 9, 2021. We have worked diligently to make this a smooth transition and appreciate your patience if we hit a few bumps next week while the new warehouse system kicks into gear.
Orders will be shipped out within 2 business days of receipt. That means if you put in an order on Friday afternoon, it will ship by Tuesday afternoon; Monday orders will ship by Wednesday. Of course, we all aim to ship these orders immediately upon receipt but 48 hours is the maximum it should take.
For those of you on the East Coast and Mid-Atlantic, your orders will likely get to you faster. But if you are on the West Coast, your shipments likely will take a couple more days than usual to get to you. Please consider this when ordering and setting up subscriptions.
Some Recipe and Size Changes (but no ingredient changes)
Mix-Ins: We are changing the size of Mix-ins from a 10oz bag to 7oz bag. The recipe ingredients will stay the same but some of the ratios will change. Overall, the Apple Cinnamon and Cranberry will be more similar in seed-to-fruit ratio to the most popular Chocolate Chip version. This increase in seeds will increase the nutrition and crunch in every bite, We also subbed some of the pumpkin seeds for sunflower seeds both for flavor and to help keep prices reasonable (pumpkin seeds are about 3x the price of sunflower seeds). Online full price is $9.99 with juicy volume discounts that drop the price to $7.99 being announced soon.
Muesli: Both flavors will stay the same size. But as with Mix-Ins, we changed the ratio of the ingredients to keep flavor and nutrition without having to increase prices significantly. The price will increase $1 per bag from $8.99 to $9.99.
Protein: Great News!! Not only did we find a preferable supplier who works with small family farmers to help them grow sacha inchi seeds even beyond organic specifications, the new powder is softer in texture. In addition, we are able to add another ounce to the bag without raising the price!
Some Product Discontinuations
Alas, some prices climbed too high and we were unable to find solutions. That is the case with blueberry.
You may remember the heat wave in the Pacific Northwest in June? Well, unfortunately, it destroyed most of the blueberry harvest. This is driving prices sky high and causing scarcity in the market, even for juice concentrate. So, we have discontinued our Just Fruit Blueberry and Fruit+Chia Blueberry bars.
In addition, we removed Fruit+Chia Cherry from the website. It may be available from time to time, but not for subscriptions.
When will your favorites be back in stock?
We appreciate your patience during this transition. It has resulted in significant out of stocks on certain products.
All our products will be coming back in stock over the month of August. Keep an eye on our social media for announcements!
What is driving the changes?
Ah, the answer to this could be a half-day webinar! Here it is in a nutshell.
Like most small companies, our products are made at a facility that makes numerous brands. In our case, the facility only makes food for allergy-friendly companies.
After Covid hit, the facility we used in Idaho had labor shortages and demand surges from larger brands. To manage this, they eliminated smaller brands like ZEGO. We were stuck trying to find a new facility in the middle of the pandemic. It was a challenge but we found a good fit, albeit across the country in Pennsylvania.
This required us to move our inventory from Idaho to a warehouse close to the new facility in Pennsylvania.
In addition,
the global supply chain is still experiencing extreme unreliability due to Covid;
the price of shipping has increased 50% across the board;
food and ingredient prices have increased every month since Covid hit, and
the amount of time it takes us to get the ingredients we need is also up about 50%.
To avoid raising prices as much as possible, we reevaluated every ingredient supplier to find ones closer to our new facility to keep costs down. Of course, with all our purity requirements, each new supplier required an extraordinary amount of time and effort. In some cases we stayed with our current farms or suppliers.
Purity Verified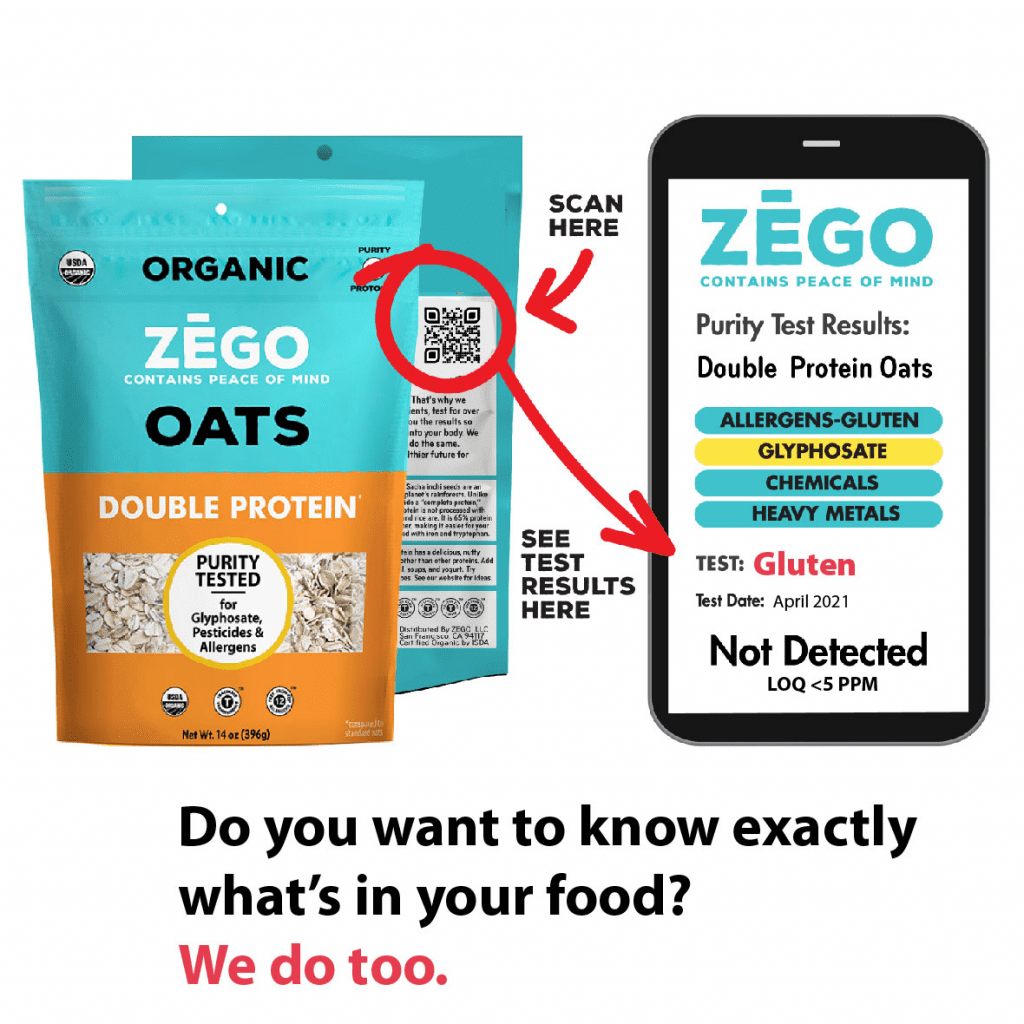 Be assured that all your ZEGO products will continue to be purity verified by 3rd party labs in the U.S. We will continue to post the results on our website and make them accessible through the QR code on each package.
If you have any questions, please reach out at customerservice@zegofoods.com or call at 415.706.8094 Mon-Fri, 10:30am-2:30pm PT to speak to our customer care team.