Savory Gluten-Free Waffles with Guacamole & Greens
Welcome to our Savory Gluten-Free Waffle series! In it we will bring you a delightful way to enjoy your leftovers and doggie bags in an utterly delicious and attractive way.
What's fantastic about these gluten-free waffle recipes we will share is that you don't need to have much volume of leftovers to make something absolutely fabulous.
With just half a cup of leftovers, you can make an amazing meal or snack. And, you'll be very satisfied because of the heartiness of oatmeal made from our Double Protein Oats.
You can be creative and play with the ingredient ratios. Use our Mexican gluten-free waffle recipe as a guide. Any way you combine it, these gluten-free waffles are a great way to make satisfying plant-based meals. But we want to warn you, hide from the rest of the fam when you make these if you don't want to share because they ROCK!
How These Leftover Gluten Free Waffles are Better
+ Use up bits of delicious leftovers you may have thought not worth saving.
+ Stretch a delicious meal to another day.
+ So fast & easy to make in a mini-waffle maker.
+ Make ahead, freeze, and pop in the toaster when you have a savory gluten free waffle craving (not that we've said it, you have one, don't you =).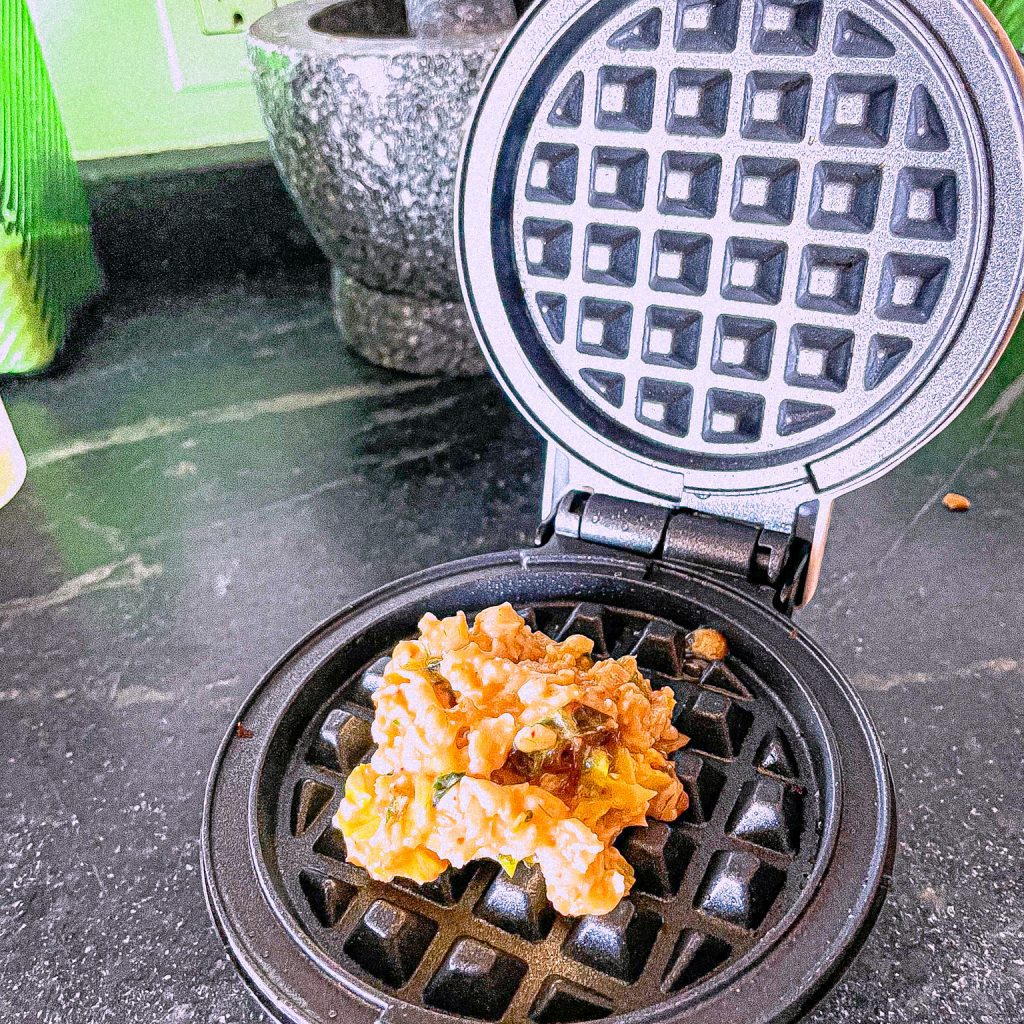 ---
Savory Mexican Gluten-Free Waffles
Ingredients
½-1 cup cooked ZEGO Double Protein Oats
½ Mexican dinner leftovers – we chopped up the brussel sprouts that came with our dinner but you could use beans and pico de gallo just as well. If you use larger pieces, be sure to chop to no more than 1/2″ on one side so they work in the waffle maker.
1 egg
Pinch of sea salt
Guacamole, Salsa & Hot Sauce
Method
Stir all the ingredients together.
We highly recommend you use a mini-waffle maker. They cost under $30 and fit easily in a crowded cabinet. Mini waffle makers cook VERY evenly and quickly. And, of course, they are super fun!
Top with guacamole and salsa with a splash of hot sauce and ENJOY!
---
Did you make this recipe?
Be sure to tag @zegofoods + @sweetorganiclivingon instagram and use the hashtag #PoweredByZEGO