Gluten Free Granola Clusters by Chef Patrick Auger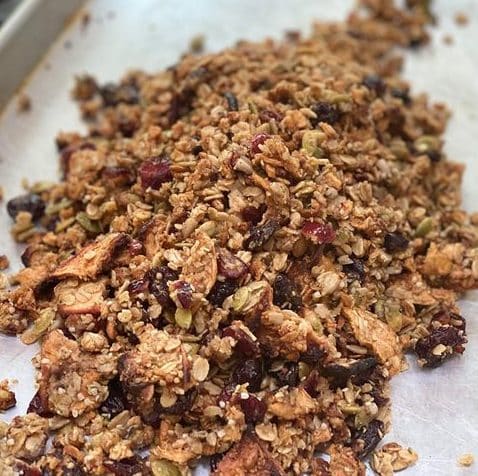 INGREDIENTS
3 cups ZEGO Double Protein Oats
1 package of ZEGO Mix-in of Choice (in this case we used Apple Cinnamon)
1/2 cup ZEGO Plant Protein
2 tbsp Hemp Seeds
1 tsp ground Cinnamon
½ tsp flaky Sea Salt, like Maldon
¼ cup melted Cocoa Butter or unrefined Coconut Oil
2/3 cup pure Maple Syrup or other syrup of choice
2 tsp pure Vanilla Extract

If making a Parfait, also have on hand:
2 cups Yogurt or Vegan Yogurt
3 cups mix chopped up fresh fruit – Raspberries, strawberries, and blueberries)
METHOD
STEP 1: Gluten Free Granola
Preheat oven to 325ºF. Line a rimmed "half sheet" baking sheet pan with parchment in a large bowl.
Stir together the ZEGO Oats, ZEGO Mix-ins of choice, Cinnamon, ZEGO Plant Protein & Sea Salt.
Take 3 cups of the mixture and pulse in a food processor until finely chopped. Transfer back to the bowl with the rest of the dry mixture.
In a small bowl, whisk together the melted Cocoa Butter or unrefined Coconut Oil, Maple syrup and Vanilla. Add syrup mixture to the oat mixture and stir to coat well.
Transfer the oat mixture to the prepared pan and spread out in an even layer (push edges in so they have the same thickness as rest).
Put in the oven and decrease the oven temp to 300°F for 35 to 45 minutes or until just starting to turn golden brown.
The mixture will not be crunchy yet (do not stir).
Turn the heat off but leave the pan in the oven for 1-3 hours. Remove from the oven and allow to cool at room temperature before breaking into clusters.
STEP 2: Make the Parfait
Prepare your Granola Crumble: Set aside to cool completely.
Prepare Fruit Filling: If you are using fresh fruit, wash it, and cut into bite-sized pieces. Assemble parfaits:
Get out 5 parfait glasses or small bowls or half-pint mason jars. Place 1-ounce granola crumble in the bottom of the dish, then pipe or spoon about 1-ounce of yogurt mixture over the granola.
Top with about 1 ounce fresh fruit. Repeat the granola layer and yogurt layer, then top with a layer of yogurt. Continue until the glass is full. It is particularly nice to finish with a layer of fresh fruit.
TO MAKE BARS: We recommend cutting the mixture in the pan into bar shapes with a long knife BEFORE you bake them. That way you can avoid breakage issues you may encounter doing it after baking. Then again, we LOVE the broken pieces so you really win either way!
This is an amazing recipe for crunchy granola clusters from Chef Patrick Auger you can enjoy on its own, or on top of yogurt.
Cut it into bars for a great snack while hiking or biking. Or, break it up into smaller pieces to surprise crunch to your favorite cookie recipe!
Be sure to follow professional pastry Chef Patrick Auger on Facebook and Instagram for more amazing allergy friendly, gluten free recipes!
Try more recipes