Nutrition
Sacha inchi protein is a whole food product that is simply roasted, cold pressed, and ground seeds. It is not an isolate like other protein powders, which are processed with chemicals or enzymes.
Whole food protein is easier to digest. And, you digest more of it, up to 30% more than the other isolated proteins. Isolated proteins pass through your system too quickly for you to digest them completely.
Sacha inchi protein also has a superior amino acid profile to other plant proteins like rice, soy, pea or hemp protein. It is a more complete and balanced protein.
65% protein by weight.
INGREDIENTS: 100% organic sacha inchi seeds, nothing else!
**Nutrition facts panel may not match physical bags.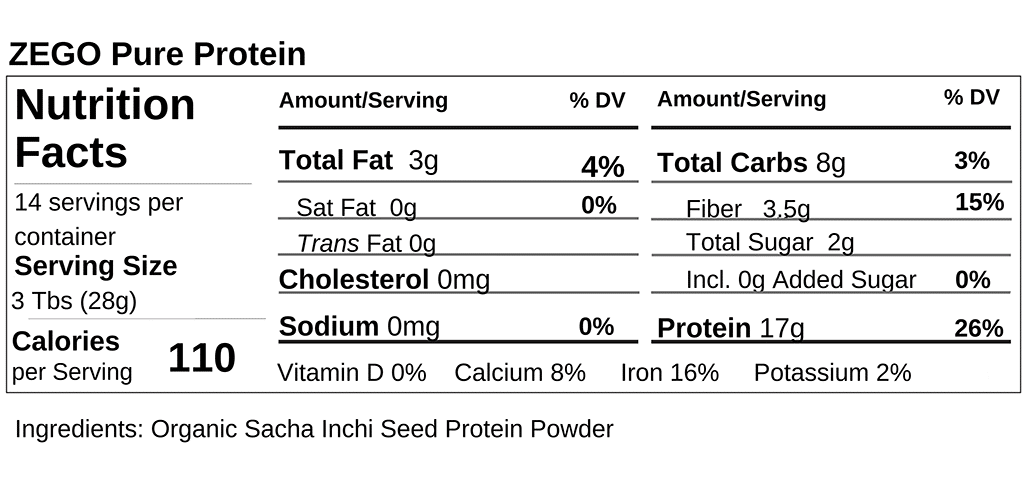 Taste
Sacha inchi seed plant-based protein is made by cold pressing lightly roasted seeds to remove the oil. The remaining seed meal is ground into this protein powder. The texture has a medium granularity that makes it particularly good for baking. You'll notice a warm, slightly roasted flavor in the powder. They are a bit nutty tasting but there are no nuts in this product.
Enjoy
Since we do not add flavors or sweeteners to our protein, it is delicious as a substitute for 1/3-1/2 of your dry ingredients in baked goods like muffins and pancakes.
It does have a granular texture, so if you use it in smoothies, we recommend adding some nut or seed butter, which helps to smooth out the texture.
Makes delicious protein brownies!
Some hard-core muscle builders will combine our protein with water after a workout to protein load.