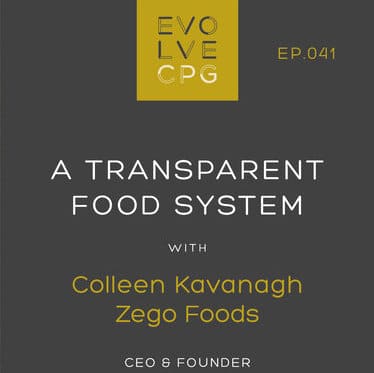 Join Colleen and Evolve CPG founder Gage Mitchell as they talk about food and politics and how consumers must drive the change to a cleaner food system.
From the Podcast Recap at EvolveCPG.com
"The general trend towards healthier living and better information about nutrition has many layers, with one of the main tenets being an increase in transparency from food brands about the ingredients used and their sources.
Today we are joined by Colleen Kavanagh, the CEO and Co-Founder of ZEGO Foods, to talk about how the company is enabling its customers to live healthy and fulfilling lives, and supporting achievement on multiple levels.
Colleen shares some of her personal journey with nutrition and how this led into her career, the important shifts in the industry in recent years, how public policy fits into the picture, and the central theme of transparency at ZEGO! So, for a great check-in on the present and future of the world of healthy foods, be sure to listen in with and see what Colleen has to say!'
Key Points From This Episode:
How customer action can quickly impact the industry and make a meaningful change!
Advice from Colleen around the legalities of going to market and a safe marketing plan.
Colleen's background and how her own celiac disease diagnosis led her getting into nutrition.
ZEGO Foods' process to becoming a B-Corporation and the processes around certification.
Pesticides and diseases; the research that has illuminated the dangers of what we consume.
The launch of ZEGO Foods and how Colleen formulated the vision for the company.
Concerns about safety and assurances related to allergies and ingredients lists.
The centrality of the testing process at ZEGO Foods and bringing these practices up to speed.
Information on A Better Course, Colleen's school nutrition program!
Thinking about the next few years at ZEGO; the two current goals of the company.
How local work in San Francisco deeply impacted Colleen's philosophy.
$

24.99

—

or subscribe and save

10%

$

9.99

—

or subscribe and save

10%

$

9.99

—

or subscribe and save

10%

—

or subscribe and save

5%

$

9.99

—

or subscribe and save

10%

$

9.99

—

or subscribe and save

10%
---