Raspberries, Cherries & Dark Chocolate Mini-Chips: what more could you want in a treat?
Seriously, these Berry Chocolate Decadence bars are the BOMB! We often joke that they are the gateway drug to our brand.
And, they aren't just bursting with delicious flavor, they are a better choice for dessert, Halloween treats, party favors, hostess gifts, and more. Keep reading to see how they are BETTER.
Thank you to Rache @thebrandfam for this beautiful photo!
Berry Chocolate Decadence Bars
Better Taste
Our Decadence bars are the perfect combination of our Just Fruit raspberry and cherry bars with delicious, organic, dark Pascha Chocolate mini-chips. We make our Just Fruit Bars from 100% fruit grown in Oregon, Washington, and California, where farmers grow some of the most delicious fruit in the world. Since the fruit does not travel far from orchard to bar, our bars retain more of the naturally delicious flavor from the fruit. Other brands buy the fruit for their bars from overseas but this decreases flavor and nutrition and gives you less control over your supply chain.
Superior Nutrition
Make no mistake, this bar is truly a treat in every respect! Our Berry Chocolate Bars will rival the best dessert you've had. And yet, they pack 2g of fiber and 1g of protein in only 90 calories per bar. That means they won't interfere with your meals or tip the scales for dessert. You see, the fiber helps to keep your blood sugar steady while you enjoy your treat. And, the rich flavor combination of tart raspberries and dark chocolate will leave you thoroughly satisfied.
More Special Features
Our fruit bars are 100% just fruit with organic Pascha Chocolate chips. We do not use any artificial or added "natural" flavors, sweeteners or colors. Pascha Chocolate is top 8 allergy free, dairy free, and has no lethicin.
Vegan, Paleo, Low Glycemic, Top 12 Allergy Free Facility, No Soy, No Peanut, No Tree Nuts, No Sesame, No Dairy, No Egg, No Mustard, No Sea Creatures, No Wheat, No Gluten, No Sulfites, No Preservatives
About our Farms
The original Just Fruit Bars were a joint project of the USDA and pear and apple farming families in the Pacific Northwest. They were produced under the name Gorge Delight almost 20 years ago. They wanted to create a product to use the "culled" fruit in conventional orchards. At the time, up to 50% of conventional orchard harvests were wasted. They were considered too ugly or small, or misshapen to sell as whole fruit. But by working with the USDA, the farmers created the first fruit bar. The USDA sent them out in MREs to military bases all over the world. And, though the USDA is no longer involved in the production, those original farming families are part owners of ZEGO.
Pascha Chocolate sources its chips from Peru. The Peruvian chocolate industry also does not have the child slave labor problem African chocolate does. We think Peruvian chocolate taste better as well. And to make us love them even more, Pascha donates to 1% For the Planet with every purchase.
How to Use Decadence Bars
Enjoy as a calorie-limited fruit snack any time of day–whether on the go or as a pick-me-up between classes or work meetings. Nut-free and safe to bring to schools. A favorite of cyclists, these bars are great for fueling or recovering from a workout. Cut into squares to use as a delightful addition to a cheese and fruit platter. Use small cookie cutters to make fun shapes and put on a candy try or cookie tray for dessert. Try cutting squares onto sticks and dip into melted chocolate for an engaging dessert or party treat.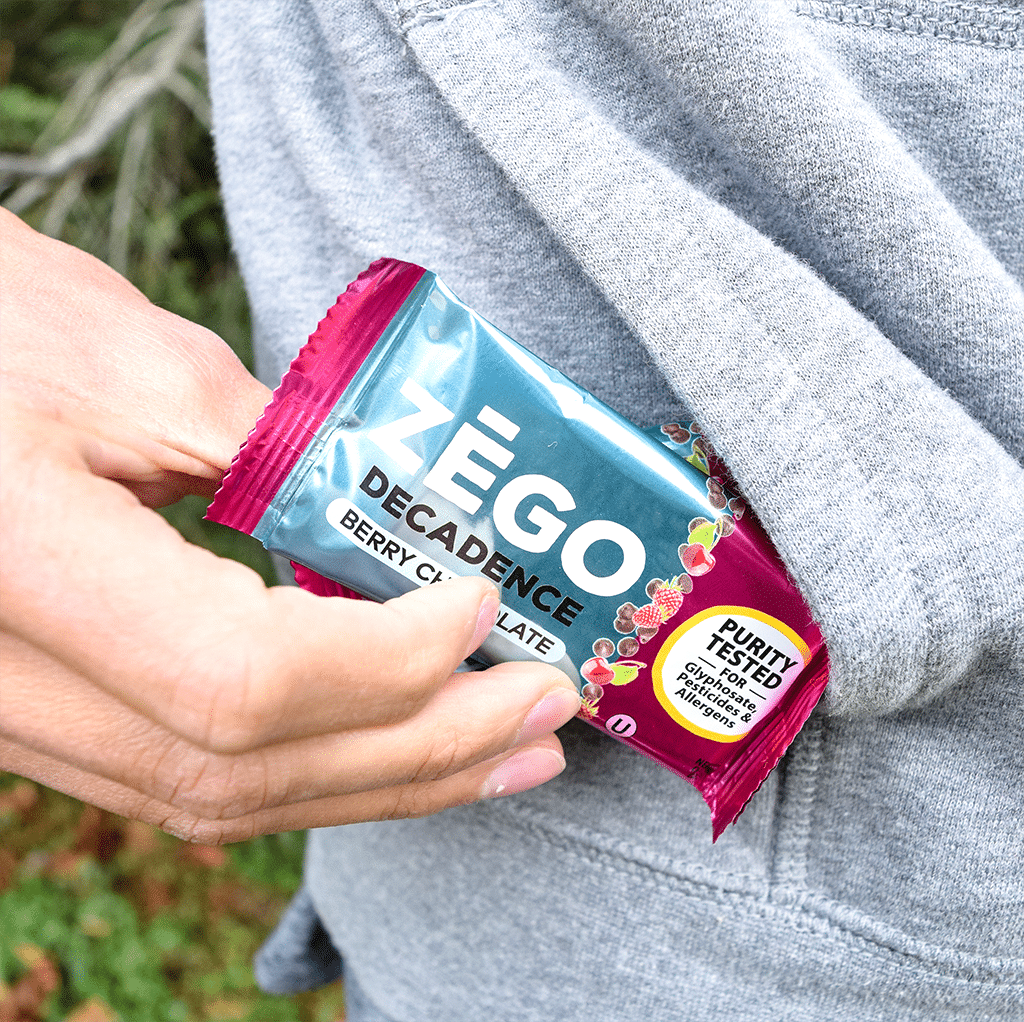 Decadence Purity
Why do we test for agricultural chemicals? Our fruit bars are made from conventional fruit as part of a sustainability effort to use culled fruit. Most of our fruit is grown in the Pacific Northwest where farmers typically use fewer chemicals on their crops. But, they do use some, and there is possible drift from surrounding fields and waterways. So we test our ingredients after each harvest for over 400 chemicals. We typically detect small levels of a handful of agricultural chemicals but the levels are very low. If we find a spike in a particular chemical, like we did with raspberries one year, we switch to organic for that ingredient for the season. Seasonal changes to organic are not reflected on our packaging. We also test for glyphosate, and to date, all tests have shown no measurable amounts of that chemical.
Why do we test for heavy metals in chocolate? Chocolate has a history of higher than natural heavy metal levels caused by man's activity like mining and battery disposal that can create toxic runoff. We work with Pascha Chocolate because they are very careful about heavy metals and test their chocolate frequently.
Scan the QR code on any package to see the purity test results for your bar and the list of the 400 chemicals we test for or see the results in our Food Safety section on our website.
See Test Results for Just Fruit Bars.
Why We Use Conventional Fruit
We believe it is important to offer better conventional products in the marketplace. Organic certification is expensive for farmers and for many it is unattainable due to finance and other concerns. In fact, only 4% of farmland in the U.S. is certified organic. Yet, many conventional farmers work hard to reduce their use of commercial pesticides and rely more on regenerative farming practices.
Brands need to start buying ingredients based on how clean they are, not just the 0-1 structure of organic certification. Then farmers will be compensated for making steps toward cleaner growing methods. And, more farmers will be encouraged and able to grow cleaner crops.
Organic certification is valuable and important. But we also need to expand our compensation system for food so it rewards farmers for making changes that result in better, cleaner food for us, their workers, and our planet, even if they are not certified organic.
Allergen Statement
Made in a Top 12 Allergy Free Facility, No Soy, No Peanut, No Tree Nuts, No Sesame, No Dairy, No Egg, No Mustard, No Sea Creatures, No Wheat, No Gluten, No Sulfites, No Corn On Equipment, No Preservatives
Vegan, Paleo, Low Glycemic, Top 12 Allergy Free Facility, No Soy, No Peanut, No Tree Nuts, No Sesame, No Dairy, No Egg, No Mustard, No Sea Creatures, No Wheat, No Gluten, No Sulfites, No Corn On Equipment, No Preservatives
$

29.99

—

or subscribe and save

10%

$

9.99

—

or subscribe and save

10%

$

9.99

—

or subscribe and save

10%

—

or subscribe and save

5%

$

9.99

—

or subscribe and save

10%

$

9.99

—

or subscribe and save

10%