What Are the Best Plant Protein Powders & How Much Do You Really Digest?
Your plant protein powder says it has 20g of protein in it. But how much are you actually able to digest? Fact is, you may only be absorbing 30% – 87% of the grams on the label.
But a little information will help you choose wisely without having to pull out the calculator. Let's peek under the hood.
How do you know if you have the best plant protein powder for digestibility?
What does it mean that the number of grams in a serving on your plant protein powder package is not 100% available for your body to use? To understand this, you need to know about two main issues.
1. Even the Best Plant Protein Powders Lack Some Essential Amino Acids
Amino acids are the building blocks of protein. And though there are 21 amino acids in all, your body can make many of them on its own. It's like using red and yellow to make orange.
But you can't make 9 of the 21, instead you must get them from food. That's why these 9 are called "essential amino acids." The problem is plant proteins are low in one or more of these essential amino acids.
Think of amino acids like a box of crayons. You dont need the BIG box of crayons. You need the basic box of 9. That's because you can make all the other colors with your basic box of 9. But with plant protein, in that box of 9 some of the crayons are only nubs, broken off pieces. And, that limits how much you use you get out of them. Keep reading to learn about "PDKAAS scores" below.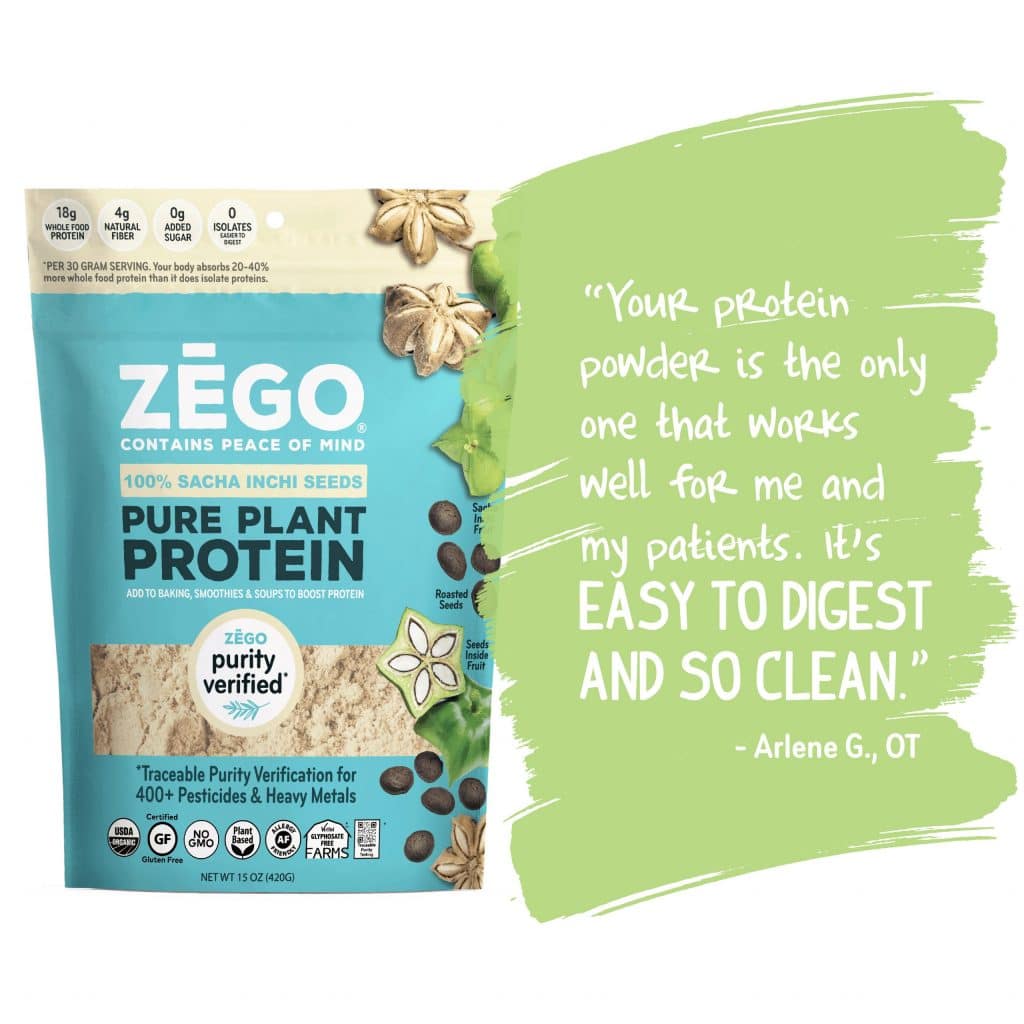 2. You Lose Up to 40% of Isolate Protein During Digestion
Most protein powders are "isolates," meaning a chemical or industrial enzyme has been used to strip the other nutrients away from the protein. That means you can fit more protein in a scoop (and you may be getting some toxic residue in your shake). But is also means you have a high amount of protein hitting your stomach at one time.
The thing is, your stomach doesn't want a bunch of protein at once because it can only digest so much in a given time period. As a result, some of the isolated the protein passes through you partially undigested. In fact, this may result in the loss of 20%-40% of the total protein you thought you were getting.
So, what's the best protein powder choice for digestibility? One that is made from a whole food and not processed into isolates. That's because a whole food protein still has some other nutrients, like healthy fats and carbs attached to the protein. This slows down your digestion so your body has time to digest the protein too.
Sacha inchi protein is one of the few whole food proteins available. And, the extra bonus with sacha inchi is that the seeds are very high in omega 3 fatty acids, some of which will be in your protein scoop.
How Do You Know How Much Protein You Are Digesting from Your Protein Powder?
To find out, the first step is to DM or email the company and ask for the PDCAAS score of the protein powder you use. If they tell you they don't have it, find another brand. Any reputable protein powder company should be able to give you the product's PDCAAS score, or at least an estimate of it based on other research. Once you have the PDCAAS score, just multiply it by the number of protein grams in the serving size you use.
—

or subscribe and save

5%
What is a PDCAAS score?
In the food industry, we use a couple of measures to determine protein digestibility. And the most common one is called a PDCAAS score.
PDCAAS a clinical measurement of how much digestible protein is in each gram of total protein on the label. Eggs and whey, for example, have a PDCAAS of 1, which means 100% of the protein is usable by your body.
A PDCAAS of 0.5 means you are able to benefit from only 50% of the total protein. Plant proteins typically range from 50%-95%.
So How Much of Your 20 Grams of Total Plant Protein is Digestible?
Here are some PDCAAS scores of common plant proteins and what that translates to for digestible protein.
Rice Protein Isolates PDCAAS = 0.45. That means 20g of protein on the label turns into 9-13g of digestible protein, and actually up to 40% less because they are isolates. read more in next section.
Hemp Protein Isolates PDCAAS = 0.65. That means 20g total plant protein turns into 13g of digestible protein.
Pea Protein Isolates PDCAAS = 0.65. That means 20g total plant protein turns into 13g of digestible protein.
Sacha Inchi Seeds (whole food, not isolate) PDCAAS = 0.87. That means 20g turns into 17g digestible protein. But this protein is not an isolate, so you digest all 17g.
Soy Protein Isolate PDCAAS = 0.95-0.99. But again, this is an isolate protein, so up to 40% isn't digested. 20g becomes 12-16g.
How can you increase the amount of protein you digest from plants?
Eat supporting foods within a few hours. For example, eat some seeds or nuts within a few hours of having your plant protein, or a couple of tablespoons of yogurt. The amino acids in these foods will fill in the missing aminos in your plant protein.
Even better, combine your protein powder with these foods when you eat it. The fats and carbs in the other foods will slow down the movment of the protein powder in your gut so you have time to absorb it.
So, Then What Really Is the Best Plant Protein Powder?
If you are looking to
maximize your digestion of your protein,
avoid chemical or industrial enzyme residue, and
avoid tummy upset,
you want a plant protein powder with a high PDKAAS score made from whole foods, not an isolate. And, be sure to choose organic because glyphosate and other pesticide residue are common in non-organic protein powders.
How do you find that? Look no further than the humble queen of the Amazon, the sacha inchi seed. Sacha inchi seed protein powder is pressed to remove the oil, which is used for medicinal purposes. Then is it lightly roasted to increase digestibility, and ground. No chemicals. No enzymes. 87% PDKAAS score.
But remember, some plants can pull toxins from the soil, like lead and arsenic. So look for a brand of sacha inchi protein that gives you access to its 3rd party lab tests for these toxic chemicals. Of course, at ZEGO we do this testing and give you access right on the package through the QR code (and on our website). Here's a visual of how it works.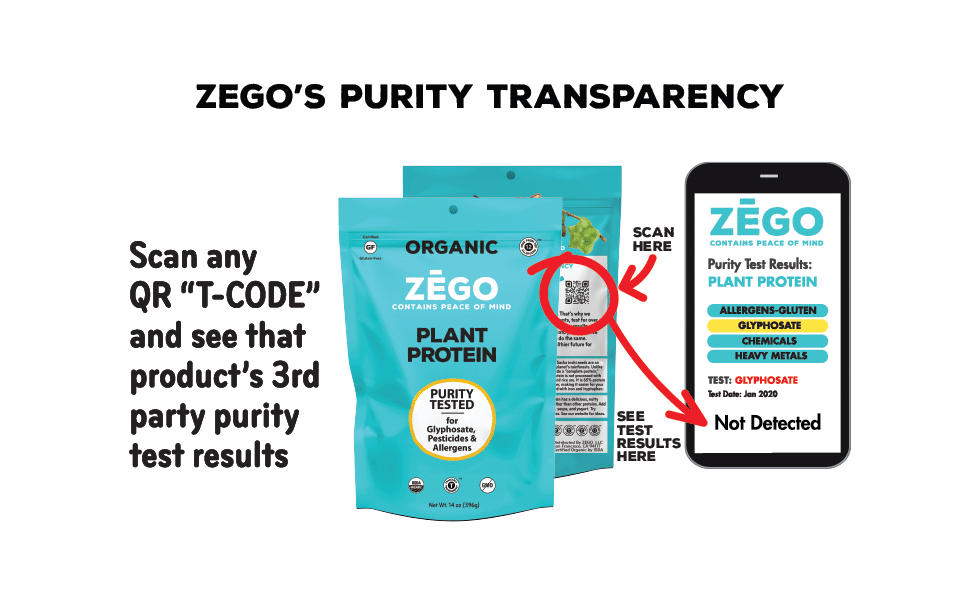 So remember, like all things food, if you regularly consume a product, it's worth your time to learn about and get the best version possible.
$

9.99

—

or subscribe and save

10%

$

9.99

—

or subscribe and save

10%

—

or subscribe and save

5%

$

9.99

—

or subscribe and save

10%

$

9.99

—

or subscribe and save

10%