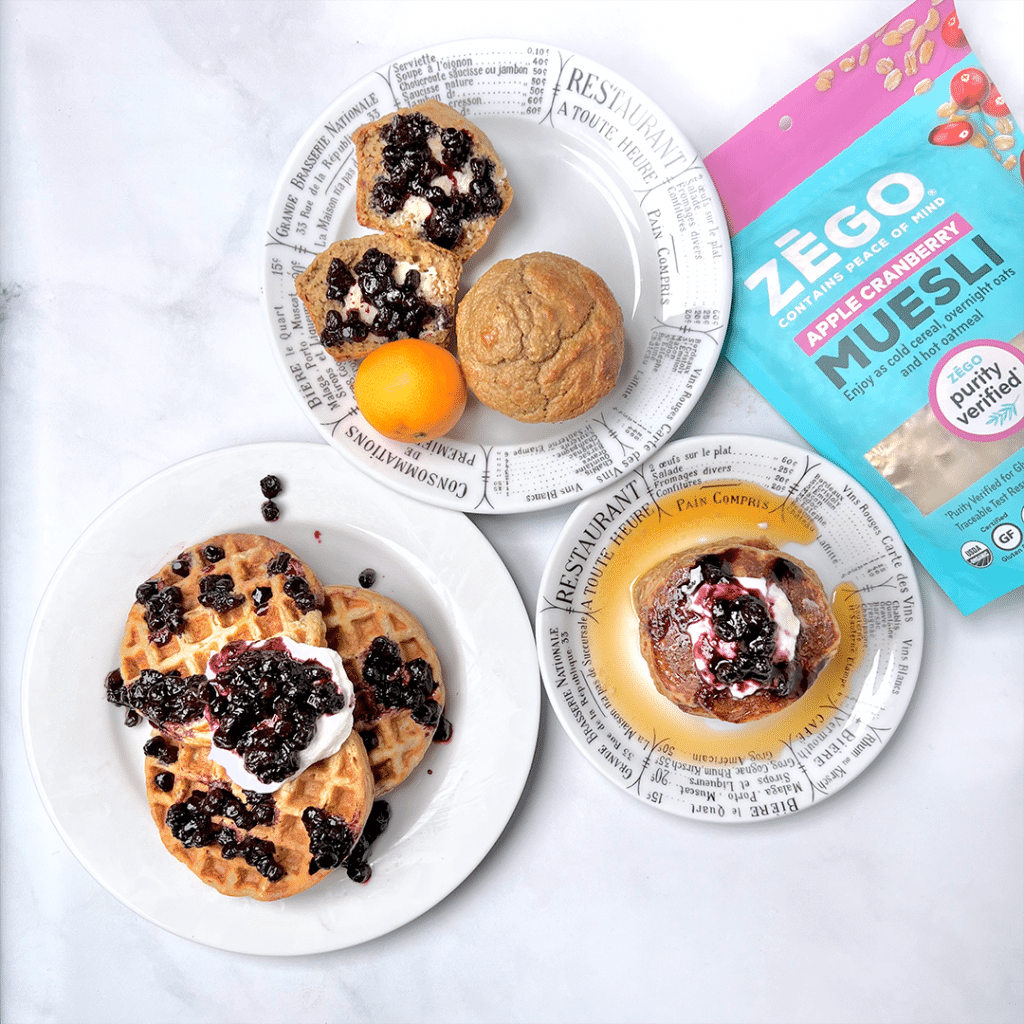 Muesli Sourdough Batter
I developed this muesli sourdough batter recipe because a new customer reached out to me saying that her toddler has a lot of allergies and finding safe foods he likes is difficult. But he LOVES our Muesli! So, working with his allergies in mind, I developed this multi-use batter.
Don't worry if sourdough isn't your thing (or your child's thing) because I actually couldn't taste the sourdough starter in the batter due to the other delicious flavors and the small amount of starter used. And, you can make these without sourdough if you like. (see swap-outs in the recipe).
That being said, making sourdough starter from ZEGO Double Protein Oats is pretty easy. Here's how.
Making Sourdough Starter
Put about ½ cup of oats and ½ cup of water in a glass jar and stir with a wooden spoon or chopstick (or your finger).
Leave it in a somewhat warm place (70 degrees F) covered loosely with a towel. Stir each day with a wooden spoon or your finger (no metal) until you notice small bubbles on the surface. This may happen right away.
Once you see the bubbles, stir, and take out half the starter. Immediately add in another 3/4 cup oats and ½ cup water. This is called "feeding" your starter.
Once or twice a day, repeat this process for about 4-6 days.
The starter can be kept in the fridge for 5 days before needing to be fed again.
Note that oat starter will not have big bubbles like wheat starter does. You'll notice small bubbles on the surface and a sweet-sour smell once it gets going.
What should you do with the sourdough starter you remove each day? Put it in a jar in the fridge and use it for this recipe!!
How This Recipe is Better
There are so many reasons this recipe is the bomb!
Muesli adds seeds to the dough. This is important because like all plants, oats need additional lysine for the protein to be fully usable by your body. That means you want to add a small amount of things like pumpkin seeds, yogurt or nutritional yeast to get the oats full protein benefits.
No sugar added–the sweetness of the dates is perfect!
Using sourdough starter or discard will add leavening to your dough. If you use a flax egg, use another tablespoon of starter and 1/2 tsp of baking powder. Sourdough also adds prebiotic fiber and makes the dough easier to digest.
So many uses!! We made pancakes, muffins, and waffles with this one recipe and they all turned out great. If making waffles, we recommend a regular size waffle maker, not a mini one. The reason is that mini waffle makers don't give the dough much room to rise while cooking (the lid prevents a full rise) and fluffy is what we really wanted. If you like crispier waffles, though, a mini-waffle maker is perfect.
Cranberry or Cinnamon Twist Muesli Batter
INGREDIENTS
3/4 c ZEGO muesli (any flavor you like)
1 regular egg (omit if allergic, we do not like using a flax egg for this recipe as it makes the batter gooey and hard to cook)
1/4 tsp baking soda
2.5 tsp baking powder
1 Tbs vanilla
4 dates or 1T maple syrup
1/8 tsp salt
1/2 cup milk or dairy-free milk (if your sourdough discard is thinner like pancake batter, decrease water to approx. 1/4 cup)
1/3 c thick sourdough discard (NOTE: if you're not using sourdough discard, add 1/3 cup additional muesli )
1 Tbs melted and cooled butter/ghee or olive oil (we love ghee)
Topping Ideas:
Berry Compote: Combine 1 c frozen or fresh blueberries with 1 tbs honey in a small pot. Heat and stir until you reach your desired consistency, about 5-10 minutes.
Coconut yogurt
Whipped Cream or Whipped Coconut Cream
Maple Syrup (of course)
Ghee, butter, or butter substitute
DIRECTIONS
Put the dates and dry ingredients in a food processor or blender and blend for one minute.
In a separate bowl, pour in dry ingredients, sourdough discard, and oil. Stir a few times (will not completely combine).
Add the water or milk to the batter. Using a fork, stir just enough to combine. Over-stirring will decrease the bubbles in the batter and make your pancakes rise less. You want the batter to be thick, more like brownie v. cake batter. If it's thin, add oat flour or more muesli 2 Tbs at a time.
If you used sourdough starter, let the batter sit in warm location for 30-60 minutes. If you didn't use sourdough starter, let rest 10 minutes to give the oats time to absorb the liquid and soften.
For Pancakes: Cook in a skillet or griddle on low-medium heat and flip as soon as you can so they don't burn. Speed things up by using two pans at once.
For Muffins: Bake at 350 for 15-25 minutes, depending on the size of the muffins.
For Waffles: We recommend using a large waffle maker instead of a mini as the mini doesn't give the dough enough room to puff up. However, if you like really crispy waffles then a mini works great.
Did you make this recipe?
Be sure to tag @zegofoods on Instagram and use the hashtag #PoweredByZEGO
If you love this, you might also like . . .
$

29.99

—

or subscribe and save

10%

$

9.99

—

or subscribe and save

10%

$

9.99

—

or subscribe and save

10%

$

9.99

—

or subscribe and save

10%

$

9.99

—

or subscribe and save

10%