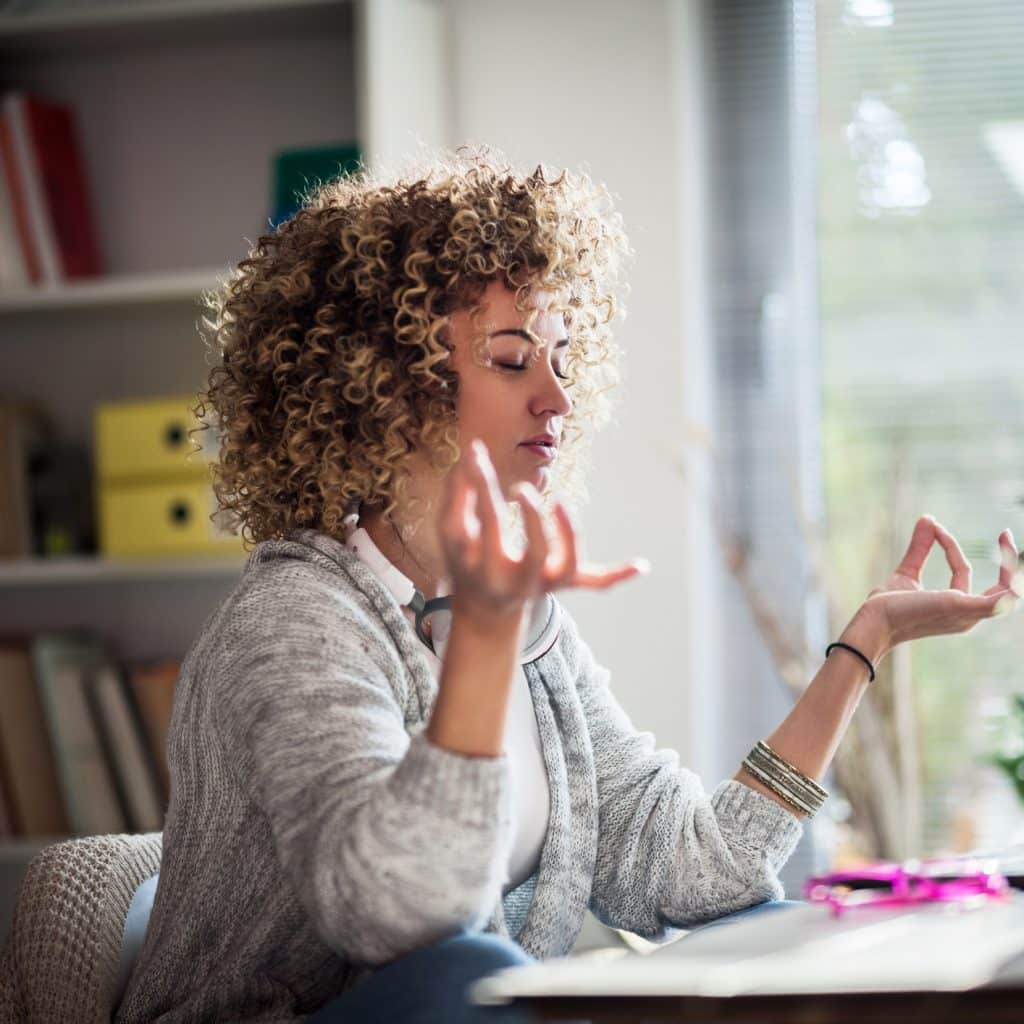 Rejuvenate throughout the Day
You know those mornings when you've been on so many back-to-back video meetings that you can't remember when you are supposed to eat lunch?
One of the best rebalancing tips for virtual meetings is to hold the meditation hand position known as Chin Mudra for 30-seconds.
Of course, we all know it's helpful to stand and move or do frog jumps between calls, there isn't always time. Sometimes you need something that can fit into 30 seconds that won't leave you out of breath.
The Chin Mudra pose is the one where you touch your index finger and thumb. It represents the completion of the energy cycle and wholeness.
That's why we love this pose as a go-to tip for rejuvenating between virtual meetings. If you think you don't have a moment to spare — how about while your video call is connecting? After all, there's no need to stare at that screen while you sit in a waiting room or wait for the internet to connect.
Is your day is packed with meetings, kids, cooking or cleaning? No worries, this pose fits into all those activities easily. And, even if your usual meditation pose is laying on a hammock or you don't have a meditation practice, 30-seconds in this traditional hand pose can be amazingly grounding and refreshing.
But most important, no matter what you do, is to do something. Grab a cup of tea, stretch, stand in the fresh air and sunshine, jump on a trampoline. There are so many great options to keep your energy fresh and balanced. Then, the next chance you get–go outside and grab that opportunity to be in nature!
What do you do to refresh yourself between your activities on busy days? We want to hear your tips too!
---
Read More from our Magazine:
$

9.99

—

or subscribe and save

10%

$

9.99

—

or subscribe and save

10%

—

or subscribe and save

5%

$

29.99

—

or subscribe and save

10%

$

9.99

—

or subscribe and save

10%

$

9.99

—

or subscribe and save

10%