Double Energy Oatmeal
This delicious oatmeal recipe will dazzle your taste buds with the rich taste of molasses and the warming spice of cinnamon. And it will boost your energy two ways — with 20g of protein for immediate energy and muscle building, and 25% of your daily iron to promote your long-term health.
For under 300 calories, this Double Protein Oatmeal recipe will stick with you for 5 full hours, due to the surprise ingredient . . . egg whites!
How This Gluten-Free, High-Protein Oatmeal Recipe is Better
By using our Double Protein Oats and adding egg whites, you'll get 20g of complete protein in just one 280 calorie serving.
The egg has an ample amount of the amino acid lysine to complete the protein in the oats. That means you get 20g of digestible, complete nutrition.
Molasses is packed with iron and provides rich depth of flavor and sweetness with very little added sugar compared to maple syrup.
The cinnamon helps to slow down the absorption of sugar in the molasses so you don't have a spike in your insulin.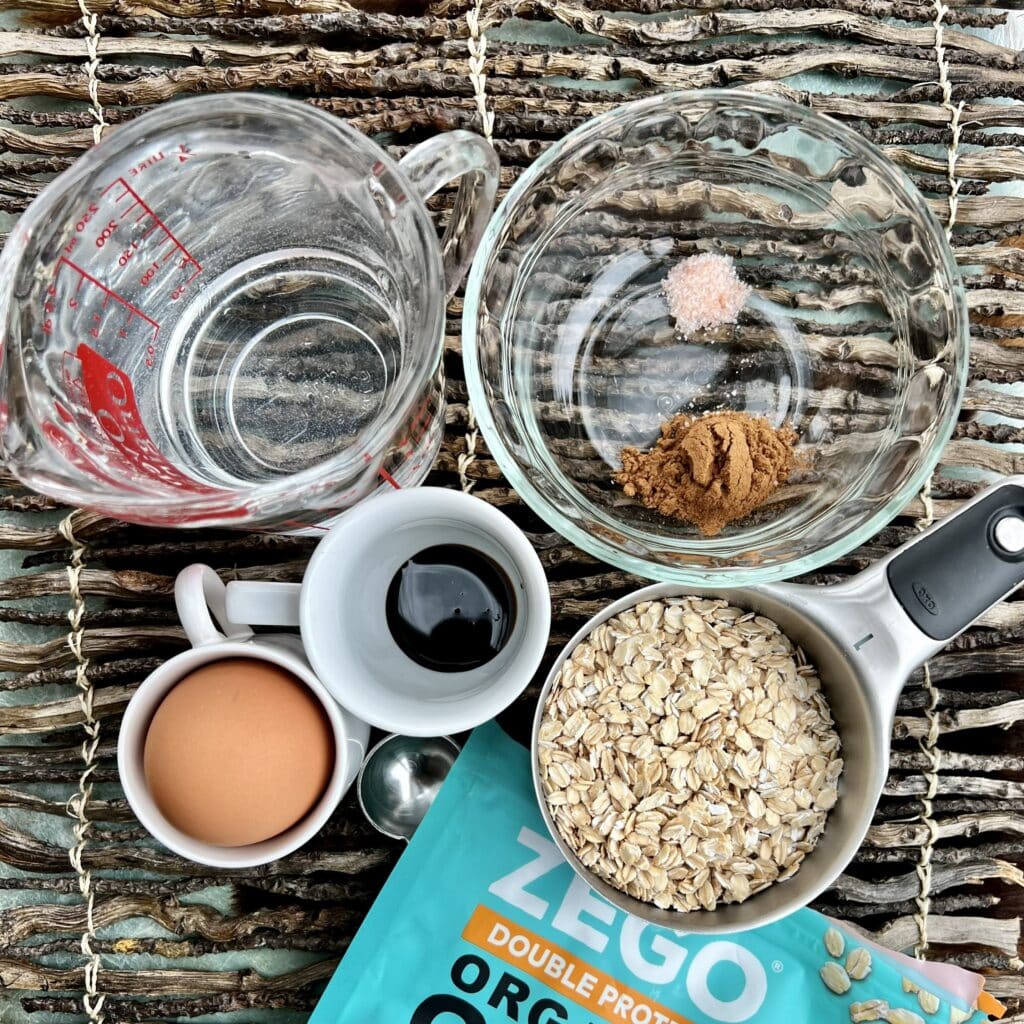 Double Energy Oatmeal
INGREDIENTS
This recipe makes 2 servings.
2/3 cup Double Protein Oats
1 tsp cinnamon
1-1/3 cup boiling water
1 pinch salt
1 tsp vanilla extract
1 rounded teaspoon blackstrap molasses
2 egg whites, whisked together
TOPPING
1 tsp coconut sugar
1/8 tsp cinnamon
1 pinch powdered sugar
2 tsp maple syrup
2 tbsp of your favorite jam
DIRECTIONS
Boil water.
Stir oats, cinnamon, sea salt, and vanilla extract into boiling water.
Simmer for 10 minutes (cook oats until they are on the dry side).
Turn off the heat.
Stir in the molasses. (Tip: use the same spoon you measure the molasses with to stir into the oats.)
Whisk the egg whites into the oats slowly. (Tip: Wedge the handle of the pot between your elbow and body to keep it from spinning when you are whisking the egg whites in.)
Oats should be creamy and delicious.
Enjoy with your favorite fruit.
If you love this, you might also like . . .
RisOATto
Gluten-Free, Rice-Free Risotto I was inspired to make a rice-free risotto dish …
Did you make this recipe?
Be sure to tag @zegofoods on Instagram and use the hashtag #PoweredByZEGO
$

29.99

—

or subscribe and save

10%

$

9.99

—

or subscribe and save

10%

$

9.99

—

or subscribe and save

10%

—

or subscribe and save

5%

$

9.99

—

or subscribe and save

10%

$

9.99

—

or subscribe and save

10%