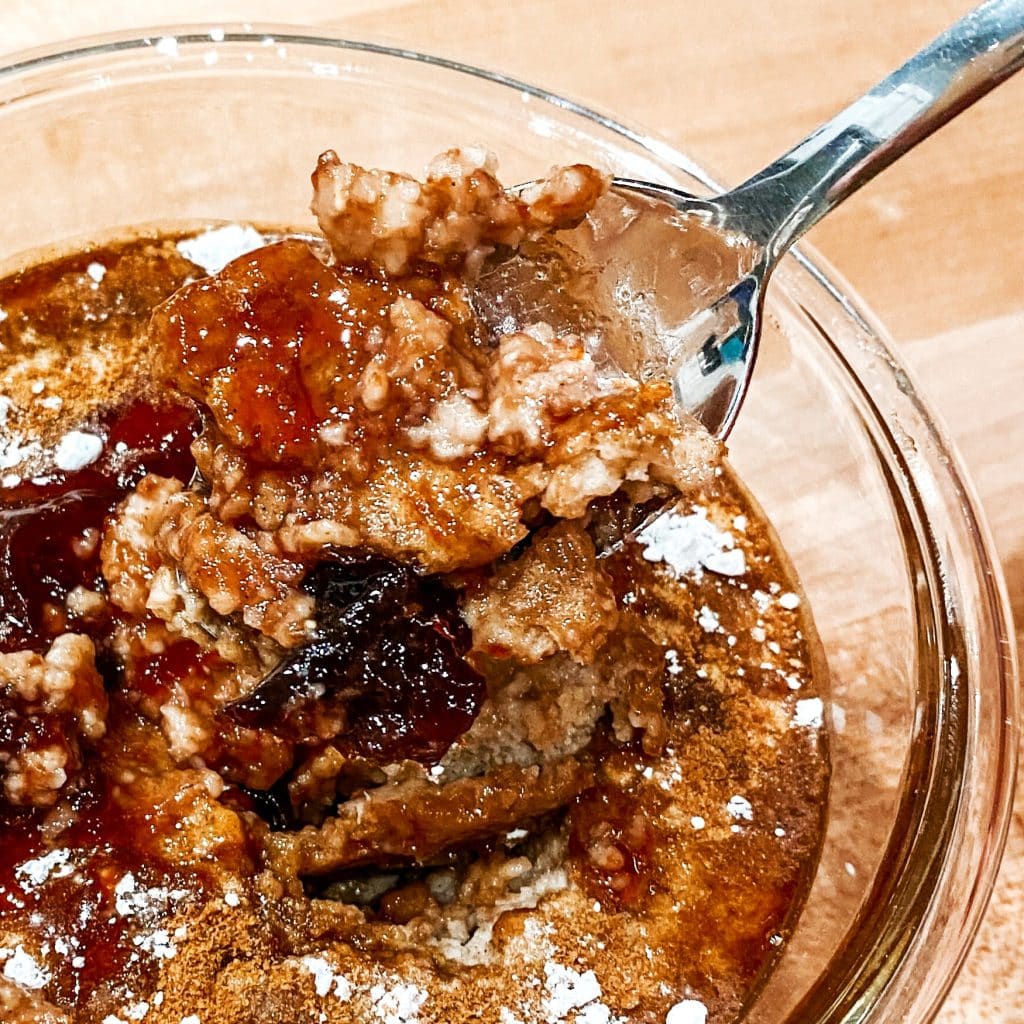 Gluten-Free French Toast Baked Oats
One of the things I missed the most when I went gluten-free was French Toast. And, even with gluten-free bread, I just couldn't get the consistency I was wanting.
With just 10 minutes of prep time, you can make these delicious French Toast Baked Oats.
If you want more protein, add 1 tablespoon of our Pure Plant Protein.
How This Gluten-Free French Toast Baked Oats Recipe is Better
By using our Double Protein Oats as the base of this recipe, you get about 10g of protein and 7g of fiber per serving and more iron than typical oats.
The egg has an ample amount of the amino acid lysine to complete the protein in the oats. That means you get maximum digestibility and nutrition.
The cinnamon helps to slow down the absorption of the sugar so you don't have a spike in your insulin. (Omit the maple syrup if you want to lower the sugar content.)
Gluten-Free French Toast Baked Oats
INGREDIENTS
This recipe makes 2 servings.
1 cup oats
1/2 tsp cinnamon
1 tsp baking powder
1 pinch salt
3/4 cup milk
1 tbsp maple syrup
1 tsp vanilla extract
1 egg
1 banana
TOPPING
1 tsp coconut sugar
1/8 tsp cinnamon
1 pinch powdered sugar
2 tsp maple syrup
2 tbsp of your favorite jam
DIRECTIONS
 Preheat the oven to 375F.
Add oats, cinnamon, baking powder, sea salt, milk, maple syrup, vanilla extract, egg, and banana to a blender. 
Blend for 1 minute.
Pour into two 6-inch round baking pans, 4 ramekins, or one 4×6 inch rectangular baking pan.
Bake for 30 minutes.
Mix cinnamon and sugar until combined well and sprinkle over oats.
Put under broiler for 2 minutes to crisp the top. (optional)
Sprinkle powdered sugar onto oats.
Drizzle 1 tsp maple syrup over each bowl of oats.
Press down into each bowl of oats using a measuring spoon to make a small indentation.
Fill the indentation of each oat bowl with 1 tbsp of your favorite preserves.
Enjoy!
If you love this, you might also like . . .
Did you make this recipe?
Be sure to tag @zegofoods on Instagram and use the hashtag #PoweredByZEGO
$

29.99

—

or subscribe and save

10%

$

9.99

—

or subscribe and save

10%

$

9.99

—

or subscribe and save

10%

—

or subscribe and save

5%

$

9.99

—

or subscribe and save

10%

$

9.99

—

or subscribe and save

10%