Who doesn't need easy breakfast ideas?
After all, what you have for breakfast is the foundation for your food consumption and energy level for the rest of the day.
But let's be real—we are all a bit sleepy in the early morning hours. And it's a lot of work to get everyone dressed and out the door.
Well, fret no more because we've pulled together a list of our favorite ZEGO breakfast recipes and no-cook combos that will make breakfast deliciously easy.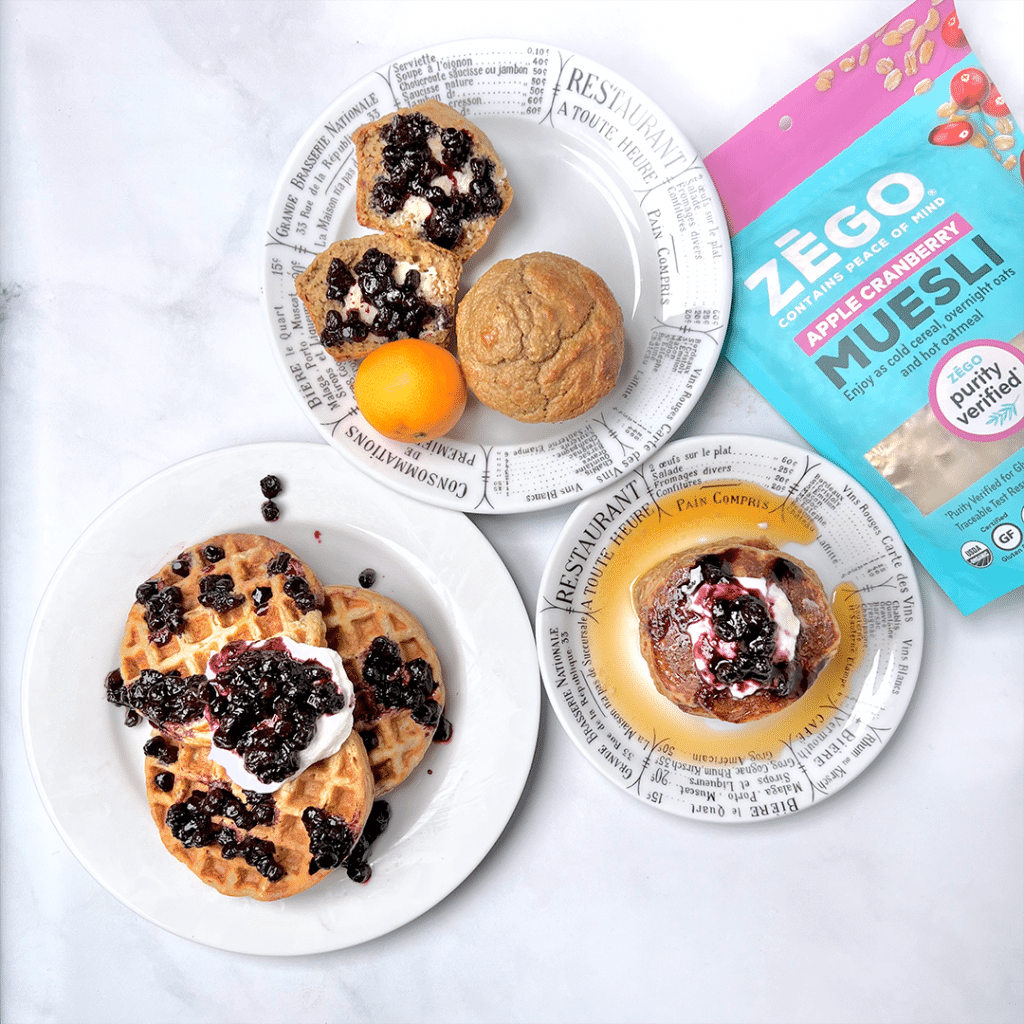 So whether you have one hour to prep on Sunday or you are eating on the fly, you can enjoy a ZEGO Café Breakfast any day of the week with our easy breakfast ideas.
The first step is to order a ZEGO Breakfast Café bundle, or select your own favorite flavors of our Muesli and Mix-Ins as well as our Double Protein Oats and Pure Plant Protein on our website. Then jump into these fantastic recipes.
Overnight Oatmeal
Baked Oatmeal
Smoothies
Protein Balls
Pancakes and Waffles
Oatmeal
Leftover Waffles
Muffins
Scones
Instant Breakfasts
1. Gluten-Free Overnight Oatmeal
Use ZEGO's Muesli to make delicious gluten-free, nut-free overnight oats. Invest in some pint-sized Ball jars or use a bowl and simply combine our muesli with yogurt or your favorite plant-based milk. We use about 1/2 muesli for 3/4 cup liquid. Cover and refrigerate for 2 hours or overnight. With 2 flavors to choose from, Cinnamon Twist and Apple Cranberry, you have 2 mornings taken care of in about 15 minutes for a family of 4. This is a fun job for young kids too.
2. Baked Oatmeal
Make one batch of baked oatmeal to use this week and one to freeze for next week.
Use ZEGO's Double Protein Oats and add in your favorite Mix-Ins flavor (Apple Cinnamon, Cranberry, or Chocolate Chip). We like using a round pan because the slices feel more like a cafe-style breakfast but any shape will do. We have several recipes on our website:
30 minutes for 2 days of breakfast for a family of 4. Make a double recipe and freeze in slices for another week.
3. Smoothie Day
Make Friday smoothie day! Combine 2T ZEGO's Pure Plant Protein Powder, 2T seed butter, frozen berries, Mix-Ins, 2T Muesli, and water (the Muesli and water replace dairy-free milk you might usually use). You can measure all these out ahead of time into a Ball jar and simply pour it into your blender the day of. Estimated prep time: 10 minutes.
4. Protein Breakfast Balls
With protein balls, be sure to make some extra for snacks between video calls or after school. Pro-tip: These are fun recipes to engage the kids with!
Our Chocolate Peanut Butter Protein Balls tastes like a peanut butter cup but without all the sugar (and without peanuts if you substitute sunflower butter).
If you are looking for a tart chocolatey flavor bomb, you've got to try our simple Raspberry Chocolate Protein Balls by @theallergychef.

To bring a little love into your day, make these heart-shaped Chocolate Protein Hearts.
And, don't miss using our Apple Cranberry Mix-Ins to create scrumptious Cranberry Oat Protein Balls!
5. Make Ahead Gluten-Free Pancakes and Waffles
You may not think of pancakes as an easy healthy breakfast idea. It's time to rethink.
You see, if you make them right, pancakes can be both healthy and fast. Just use a blender for the batter, two pans for the making, and freeze them so you can toss them in the toaster oven to reheat later.
Insider tip: Sprinkle them with water before you reheat them. It helps keep them from drying out.
We have several delicious pancake recipes on our website. Because oatmeal pancakes may take longer to cook depending on how thick your batter is, use low heat so they don't burn. Get cooking with one of these delicious gluten-free pancake recipes:
6. Oatmeal
And don't forget OATMEAL as a go-to easy breakfast!
To make it an easier, make a large batch on Sunday and use it all week with different toppings. Remember that oatmeal needs friends to make sure all the protein is bio-available (it's low in the amino acid lysine).
So be sure to add a small amount of foods higher in lysine to balance it out. And if you do, your morning bowl will keep you feeling full longer. (Hints: pumpkin seeds, yogurt, nutritional yeast all are high in lycine.)
Here are some easy breakfast ideas for turning ZEGO's delicious Double Protein Oats into amazingly delicious oatmeal.
Combine with Cranberry or Apple Cinnamon Mix-Ins
Add other toppings like berries and nuts/seeds
Stir in a little yogurt for probiotics
Add milk or dairy-free milk (though dairy free milk won't add lysine)
Add Chocolate Chip Mix-Ins for a treat!
Make it savory by adding sautéed onion, bacon bits, and 2t nutritional yeast or cheese/cheese substitute – make it simple and savory by just adding 2t nutritional yeast to plain oatmeal (nutritional yeast is high in lysine)
Having a midnight snack? Try our Sleepytime Oatmeal with pistachios, allspice, cinnamon, and cardamon. It will help you (or your little one) relax and fall asleep faster!
7. Leftover Oatmeal Gluten-Free Waffles
Leftover Savory Oatmeal Waffles? Yup, we said it. It's perhaps our favorite easy healthy breakfast idea.
You simply use ½ cup of your leftover Double Protein Oats oatmeal, ½ cup tasty dinner leftovers, and an egg (or flax egg) in a mini waffle maker. Be sure to top with complimentary yumminess like guacamole or shredded cheese/cheese substitute. You'll fall in love! We've got a few great recipes on our site like:
8. Gluten-Free Muffins
Muffins or bread may sound too time-consuming or unhealthy for breakfast. But trust us, you'll be delighted with all these recipes. And, they freeze and reheat so well–use them anytime you need a quick healthy breakfast idea.
We use our glute-free Double Protein Oats, Mix-Ins, and Muesli for these recipes. Sometimes you'll grind them into flour. Other times use them whole. Make a batch on Sunday and enjoy them all week long!
9. Gluten-Free Circle Scones
Why should scones be just a cafe treat? With our recipes and half an hour on the weekend, you'll have a tasty, flaky, hearty scone any day you want to.
Discover your favority recipe.
10. Instant Breakfast Ideas
No time to prep? No worries. Here are some great ideas for instant breakfasts.
Combine ZEGO Muesli with non-dairy yogurt or milk and eat like you would cold cereal. If you have time, let it sit for 5-10 minutes to allow the oats to soften.
Add Mix-ins to your favorite dry cereal flakes to add nutrition and staying power.
Spread some seed or nut butter on a rice cake, pancake or toast and top with your favorite Mix-Ins flavor.
Spread some avocado on gluten-free toast and top with Cranberry Mix-Ins.
Need to jump in the car or bus? Bring a bag of Mix-Ins! They are packed with nutrition and are so satisfying—a couple of handfuls will keep your body and brain happy for hours.
Let us know your favorite easy healthy breakfast ideas using your favorite muesli products! We'd love to add them to our recipes and share them with everyone.
Be well,
Colleen, ZEGO Founder
$

29.99

—

or subscribe and save

10%

$

9.99

—

or subscribe and save

10%

$

9.99

—

or subscribe and save

10%

—

or subscribe and save

5%

$

9.99

—

or subscribe and save

10%

$

9.99

—

or subscribe and save

10%